Bob Kiewatt Jr. - Broker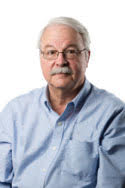 "I think I can contribute to others and their dreams with my experience, especially for those many clients who know what they want to do but just need a little help getting started. With extensive knowledge of local commercial property, I can take the guesswork out of your next deal."
Learn More About Bob
I am originally from Blackduck, MN. I spent my youth growing up on a resort and attended Blackduck schools. During that time, our resort did not support being open in the winters as they do now, so the family moved to Milwaukee every winter, then reopening in the spring. I attended 7 different schools during these years. A time which I fondly refer to as, a real character-building period. I graduated from BSU in 1973 and then moved to Minneapolis to start my career.
After accomplishing my undeniably greatest feat, marrying my beautiful wife Barbara, the call of home was too great. We returned to Bemidji in 1986, where we started a rental store. The one store eventually became three. Having sold the rental stores in 2005, I soon realized I had a passion for real estate. I obtained my real estate agent license in 2008, and the broker's license in 2012.
Now I concentrate completely on real estate/business sales/consulting, with an emphasis on commercial property.
I am excited to help our agents grow their business and guide them as best as I can while we provide excellent service to our clients and the Bemidji community.
Bob Kiewatt JR
218-556-0504